UPDATE: To learn about ACCENT, the Army's new cloud program procured through CHESS, click here. 
Much like the game, the US Army's Computer Hardware, Enterprise Software and Solutions (CHESS) fathoms many a seasoned contractor. This article is a guide to everything there is to know about CHESS and the latest developments in the procurement tools housed within CHESS. This article focusses on procurement of services and software through CHESS. To read more about Hardware Procurement, click here. 
To procure a pre-loaded AGM mobile computing device (for example, a tablet or laptop with Windows OS), ADMC-2 can be used to submit an RFQ. This is open to Army, DoD, and other Federal Agencies.
To procure an Apple iOS or Android device, the WiFi devices contract can be used to submit an RFQ. This is open to Army, DoD, and other Federal Agencies.
To procure a data call plan or a cellular wireless plan, use the NETCOM Wireless BPA. This is open to Air Force, Army and, other government officials within the DoD
These Mobility Services Contracts do not require an ITAS waiver.
With the overarching goal of satisfying ALL of the Army's net-centric goals, ITES-2S offers a whole host of IT services geared at offering solutions in the following areas:

The contract has a ceiling of $20 billion across all contracts, with a period of performance expiring on the 13th of April 2018. CHESS manages the contracts, in coordination with the ACC-RI Contracting Center. It is open to the Army, DoD, and other Federal Agencies. Recently, the ordering period for ITES-2S has been extended by 36 months, making the last time for receiving orders the 13th of April 2018, with all work required to be completed by 13th April 2020. Ceiling labor rates for FP and T&M-type task orders are held at the Ordering Period Year 9 ceiling rates for the duration of the extension. 16 vendors are listed under ITES-2S, two of which are small businesses (STG, Inc., and Pragmatics, Inc.).
ITS-SB is built on the same concept as the ITES-2S but for small businesses. ITS-SB has a ceiling of $400 million across all contracts for a period of 6 years, expiring on the 13th of April 2016. The contract is the Army's source of Small Business Service within the continental US. The award process per task order is outlined below: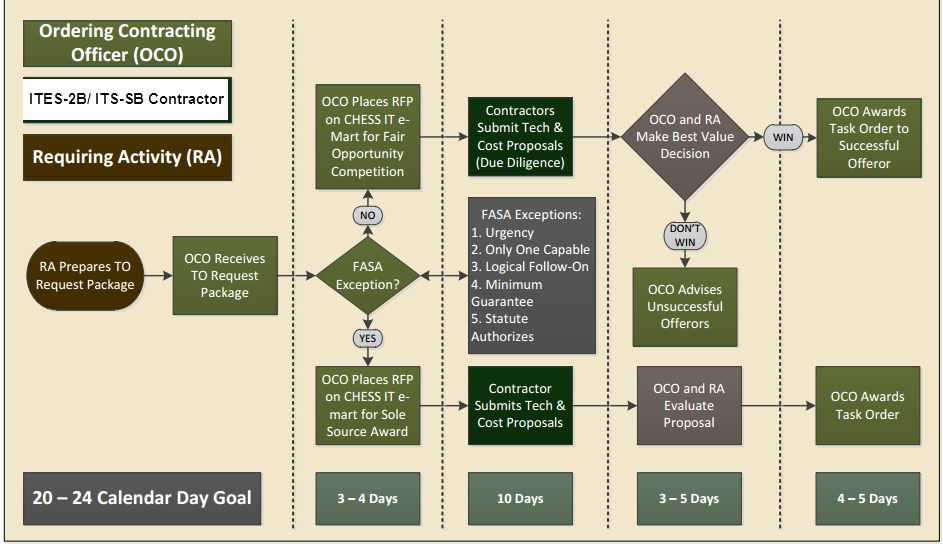 As of early this year, the ordering period for ITS-SB has been extended by 26 months, that is, from 15th of February 2016 till 13th of April 2018. Ceiling labor rates for FP and T&M-type task orders are held at the Ordering Period Year five (5) ceiling rates for the duration of the extension. As a result of re-certification, the three vendors listed below are no longer classified as a "Small Business" and will not be eligible to participate in this extension. Performance under any current task order or task orders issued prior orders issued prior to 15 Feb 2016 must be completed within 24 months of the expiration of the contract per FAR clause 52.216-22(d), which is included in the base contracts. This applies to the following vendors:
  W91QUZ-11-D-0001 ActioNet
  W91QUZ-11-D-0003 Engineering Services Network, Inc.
  W91QUZ-11-D-0004 Enterprise Information Services, Inc.
Software
According to a HQDA CIO/G-6 policy, CHESS has been appointed as the Army's Software Product Director, which means that CHESS is therefore responsible for all DoD's and Army's Enterprise Software Agreements. Being Product Director means that CHESS takes on the responsibility of making sure that every request is replied to, with ESA pricing information, within three days, with exceptions taking a maximum of thirty days. It also takes on the responsibility of managing ESAs of both the DoD and the Army.
Software procurement through CHESS is a complicated affair. The following flowchart provides an overview: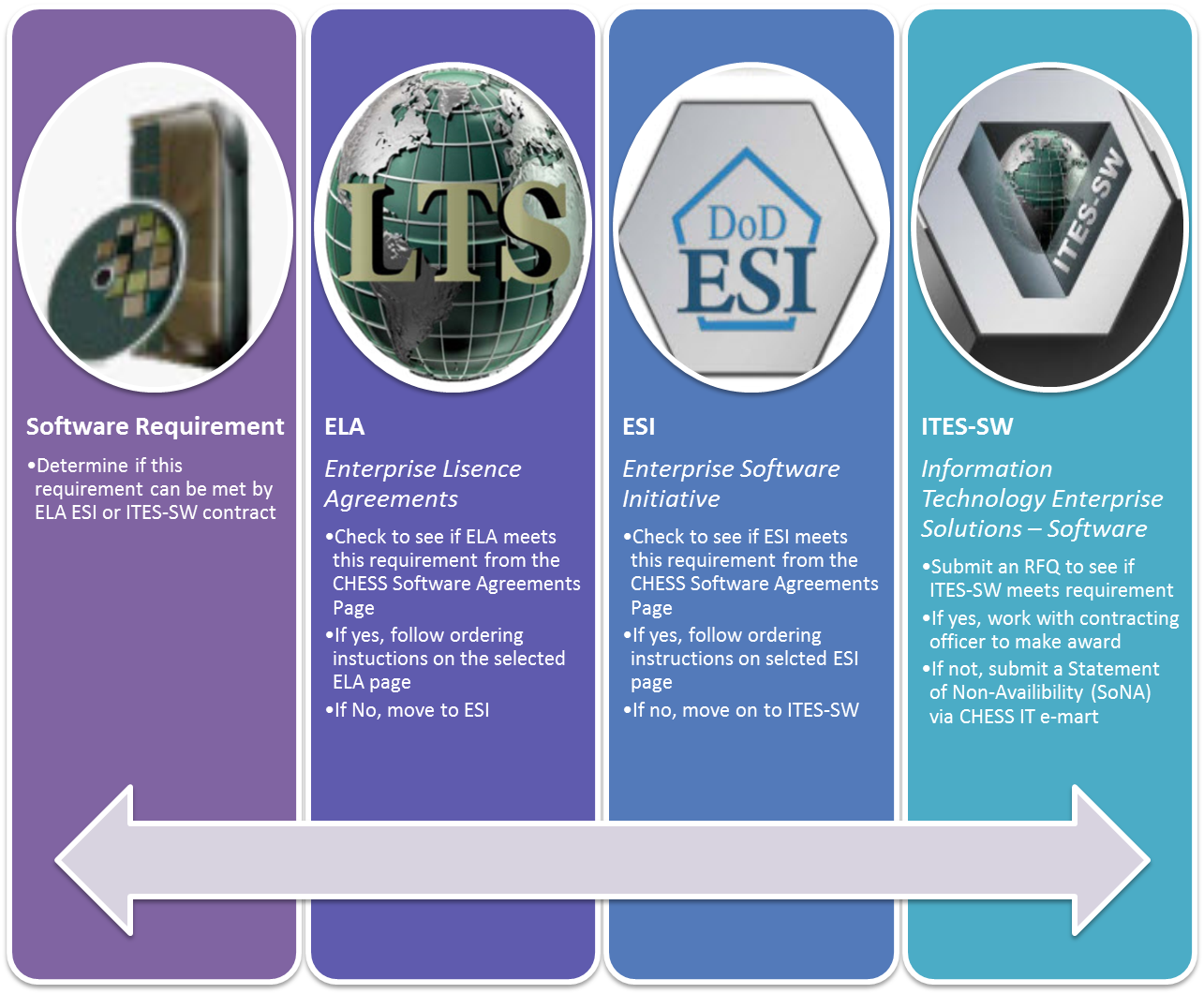 To reduce overall costs for each order, CHESS awards Enterprise Licensing Agreements (ELA), all of which leverage the Army's purchasing power, while making sure low costs and greater value-added benefits are available to its customers. The ELA and ESA models focused on those software products that have had a significantly large demand amongst DoD and Army communities. For example, in FY2010, the army awarded an ELA for MiniTAB, a software support mechanism that provides support for the Army's Lean Six Sigma projects. The ELA reduced the overall license cost-per-user from $1,700 to $194.
Below is a table of all the ELAs under CHESS: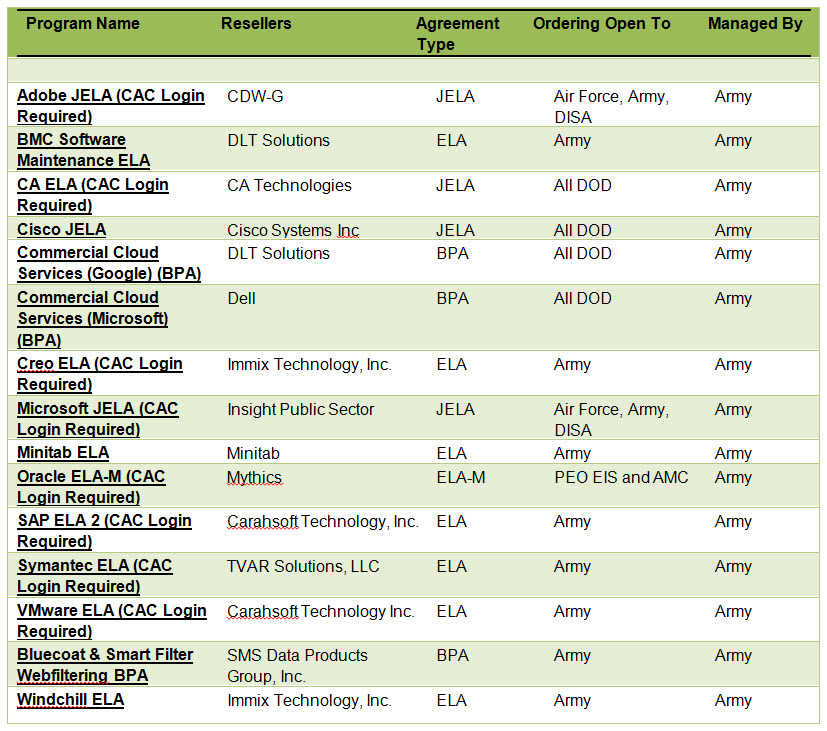 Founded in 1998 with the purpose of saving time and money on commercial software, the DoD Enterprise Software Initiative provides a unified contracting and vendor management platform across the DoD, Coast Guard and Intelligence Communities.
ESI has met increasing successes, from being a model for the Federal-wide SmartBUY initiative, to negotiating discounts close to 86% off list prices on products, saving over $7 billion. ESI's ESAs improve upon GSA Schedule license terms, such as:
Functionality replacement and extended support
Rights of survivorship of the Agreement
Transfer rights within DoD
Temporary use of software during times of conflict
Compliance with IPv6 requirements
Compliance with Net-Centricity policies
While the ESI and ELA agreements focused on software requirements with large demand, the Army saw that it lacked a model for smaller, but significant, number of contracts that did not meet ELA and ESI requirements. Upon further investigation, a capability gap was discovered for acquisition of low-cost COTS that had a current Certification of Networthiness (CoN).
The Information Technology Enterprise Solutions – Software (ITES-SW) was set up to satisfy that gap, while simultaneously making sure that all software procured has a common look and feel that is consistent with Army applications, along with supporting the implementation of a NETCOM networthiness program. The categories under which CoNs are applicable are:  IT Utility & Security, Modeling & Simulation, Multimedia & Design, and Program & Development.
The contract has a ceiling of $49 million over a 5 year period. The following are the prime contractors under ITES-SW.

Want to know more? Attend an informational session.