Army CHS-6 Common Hardware Systems RFP Coming Soon
7/12/22
Last week the U.S. Army issued the synopsis for the upcoming Common Hardware Systems 6th Generation (CHS-6) indefinite-delivery/indefinite-quantity (IDIQ) contract. The ceiling on this solicitation is approximately $7.9 billion and will run a maximum of 10 years (4-year base period with two 3-year option periods).
The Army Contracting Command Aberdeen Proving Ground (ACC-APG), Division B, is planning on releasing the request for proposal (RFP) very soon in support of Program Executive Office Command Control Communications Tactical (PEO C3T), Product Lead Common Hardware Systems (PdL CHS) Common Hardware Systems 6th Generation (CHS-6) contract.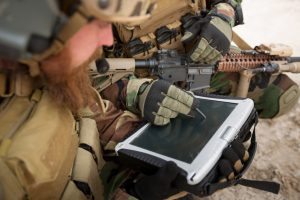 The purpose for this contract is for rapid procurement of total lifecycle system management solutions which support the U.S. Army (Army), Department of Defense (DoD), and other Federal government programs and agencies.
Falling under NAICS 334111 (Electronic Computer Manufacturing), CHS-6 will provide procurement for Commercial Information Technology (CommIT). This includes Commercial Off-The-Shelf (COTS) items, Non-Developmental Items (NDI), components, customizable sustainment strategies, non-personal services, and continuous technology enhancements.
General Dynamics is the single-award incumbent on the previous CHS-5 which was awarded in September 2018. The company has been awarded about $1.6 billion of the $3.7 billion ceiling IDIQ to date over 716 task orders per EZGovOpps Market Intelligence. It is set to expire in August 2023.
This contract is full and open, and the RFP is expected to be released in August 2022. To learn more about CHS-6, get started with a five-day trial of EZGovOpps.