What are HUBZones?
HUBZones, Historically Underutilized Business Zones, were created in 1997, as part of the Small Business Reauthorization Act, to provide government contracting assistance to small businesses located in these zones.   The pre-conditions for a company to be classified as HUBZone are pretty strict- it must be a small business by SBA standards, 35% of the company's employees must reside within a HUBZone, and the company's principle office must be located within a HUBZone.
Why should we care?
The statistics, however, tell a different story. The HUBZone status is the ONLY SBA program not achieving its spending goal for 2016.  The HUBZone utilization for DoD is expected to be 1.06% for 2016. In 2009, it was 3 times that statistic. There are approximately 4200 HUBZone companies registered with SAM.Gov. There were 294 contracts, issued between October 1st, 2015 and May 23rd, 2016 as either HUBZone designation or Sole Source designation for HubZone. The value of these contracts to date is 1.08 billion dollars. 62% of those awarded contracts were task order activity. The Sole source distinction was only 3% of the 100% pie regarding HUBZone awards. Out of all the HUBZone awards, 87% of the HUBZone contracts were firm fixed priced contracts.
Is there room for change?
Over 85% of companies are denied HUBZone status because they fail to meet the 35% employee residency requirements, thus stifling further growth of these small businesses. In this regard, though, some progress has been attempted for Base Closure and Realignment (BRACs). Changes to the definition of BRACs introduced in the Fiscal Year 2016 National Defense Authorization Act (NDAA), under Section 866, would allow companies seeking for HUBZone status to have 35% of its employees living within an area that includes all census tracts that border and intersect the former military property, that is, a designated HUBZone area.
In addition, the program would also allow extension of HUBZone status to up to 8 years for a BRAC-impacted community– an extension that would help such areas overcome dire economic challenges. In addition, under section 1347(b)(3) of  the Small Business Jobs Act, the Small Business Association (SBA) was authorized to establish a mentor-protégé programs for other small business, including HUBZones. Such a program allows protégés to work closely with the SBA in achieving their business goals and enhance their unique capabilities.
Let's Talk Numbers
Below is a graph from EZGovOpps for set aside amounts for all contracts with completion dates of 30th of September, 2016.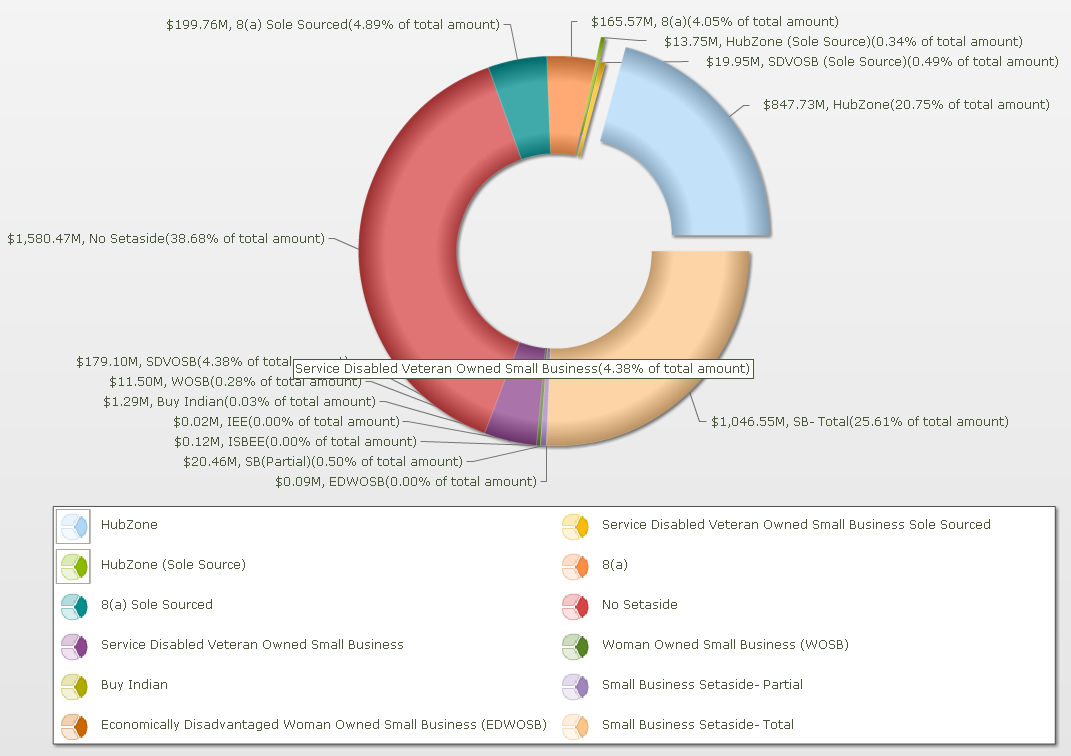 Out of a total of $4 billion, only 0.34% of the total amount was sole sourced for HUBZones. In addition, the top four companies with most total task order dollars for HUBZone set-aside are, in decreasing order are the Army, the Navy, the Federal Acquisition Service, NASA, and the VA. Current companies that have HUBZone status must take advantage of all the above facts and use them to their advantage. The top four companies with funding are Department of Health and Human Services (DHHS), Social Security Administration (SSA), Veterans Administration (VA), and then the Department of Defense (DoD). To make sure that such companies win the predicted 1.06% of DoD contracts within 2016, they must be both proactive and use a market intelligence tool that can help them win contracts. EZGovOpps is the best asset for any HUBZone in this regard.