Upgrade for Sub-contract Search Functionality
The Sub-contracts tab allows searches for expiring prime contracts with reported subcontract activity. Members can search by the sub-contract NAICS in combination with any other criteria such as agency, etc. to locate a prime contract's forecasted end dates. This allows the ability to pinpoint prime/subcontract activity and potentially take the place of the existing sub-contractor when the contract re-competes.
In addition, when members are searching within the Contracts module and reviewing the contract summary pages, the EZGovOpps Related Contract Data box will display all reported sub-contract activity as part of a deeper analysis/reporting for the prime contract.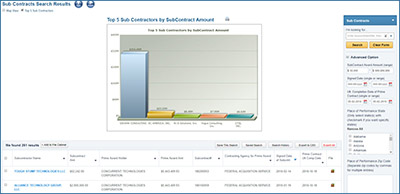 Sub-contract search for a one year forecast of prime contracts that involved sub-contracts over $50k in value with NAICS 541511. The chart reflects the top sub-contractors by obligated dollars to date for current prime contracts.