Market Intel at your Fingertips

Manage the Process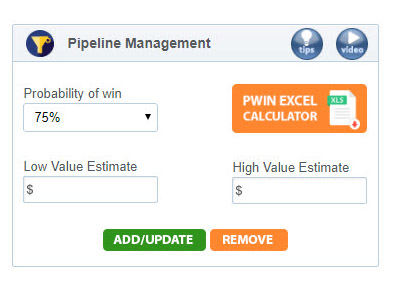 The Pwin Calculator is an opportunity analysis decision matrix that helps BD teams establish and use a vetted approach to determining objectively which opportunities a company should pursue. It can be customized to reflect a company's philosophy, risk tolerance and strategic objectives. Read more.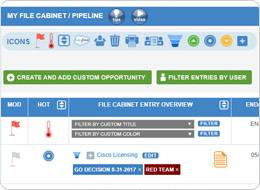 The File Cabinet allows solo or joint workflow for the assignment of priority levels, custom tags, management of mod alerts and team members, and importing opportunities from other platforms/sources, offering one cohesive environment for organizing and tracking opportunities.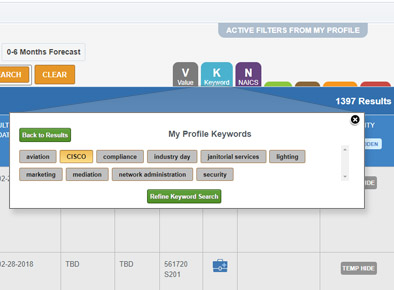 Members can see their dashboard populate "live" by selecting their criteria in the Pre-forecast My Profile. Within My Profile, a user can specify contract value range, alert timeframes, keywords, NAICS codes, agency, set-asides, and many other criteria.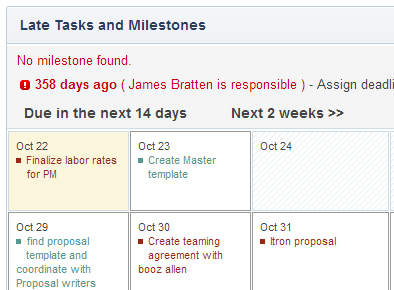 A consolidated view of your proposal center allows you to mitigate issues and challenges before they occur and stay informed on upcoming due dates.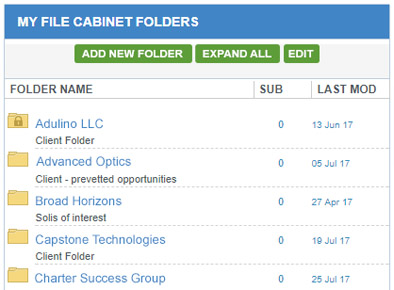 The File Cabinet helps you stay on top of the information you need. Define work flows by categorizing related opportunities and contacts.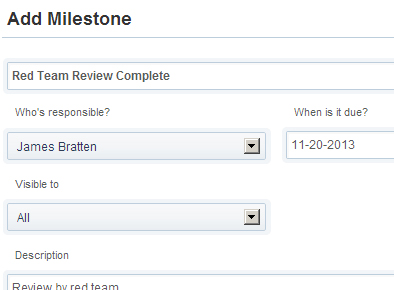 Keep everyone on schedule with tools that help you deliver on-time. Assign tasks and milestones to help your team stay on track and prepare for fast approaching deadlines.

Collaborate With Your Team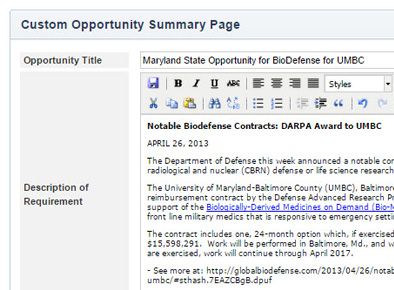 Create or import any custom commercial/state/local opportunity into your team's shared file cabinet and pipeline management platform. In addition, these opportunities can be added to the EZGovOpps proposal management platform: the Collaboration Suite.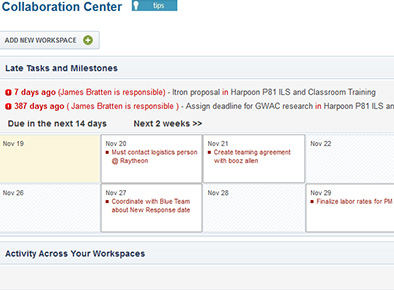 Monitor milestones, tasks, files, and discussions that are created in the Collaboration Center. Create a separate workspace and track each task order or proposal related event from beginning to end-all in one place. You can even set unique permissions for each workspace so you have the ultimate control of who can see what.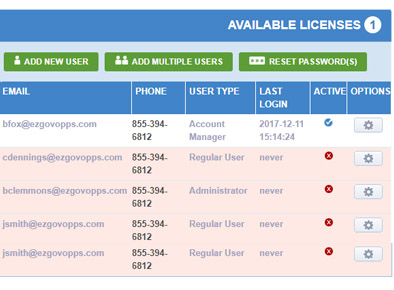 Two heads are better than one, and with EZGovOpps we have made it flexible to add even more. Our self-service portal makes it easy for you to manage user accounts, and invite more team members.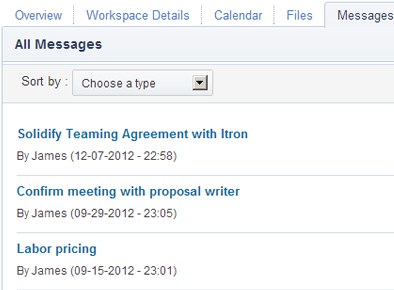 Sending important communications via email can cause critical information to be overlooked if it becomes buried in the recipient's inbox. Use the EZGovOpps platform to keep everyone on the same page with open discussions and never miss important proposal-related communication again.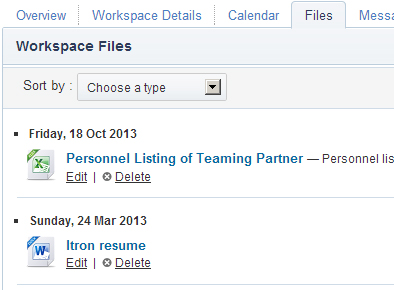 Keep your documents safe and organized; EZGovOpps secures your files using modern encryption methods to transfer and store your data, Files are transmitted over Secure Sockets Layer (SSL) and AES-256 Bit encryption, one of the highest in the industry. Your files are stored securely on Amazon's Simple Storage Service (S3) and backed-up on a daily basis.

It's easy to see why EZGovOpps is the leader in comprehensive and affordable market intel.
Pricing
Add additional team members to account
Federal Opportunities Included in Plan Price
In-depth Contracts and Awards History
Labor rates for thousands of job titles with included job descriptions
Matched Opportunities Based on Personalized or Shared Profile
Export Companies, Contracts & Awards, or Opportunity Data
Comprehensive Company Search and Summary
Federal Government Contacts Search with Past and Present Buying History
Search SDVOSB's and VOSB's that are CVE certified by VetBiz and the Veterans Administration.
Comprehensive GSA Schedule Holder and Sales Query Ability
Federal Agency Profiles Including Organizational Charts, Forecasts, Small Business Initiatives and More
Search Federal Contracts and Awards Using Real Time Data to Create Custom Reports or View Graphical Representation of Matching Results
Collaboration Center for Document, Proposal, and Task Order Management
Assign Tasks and Milestones to Team Members
Upload Files
One-Click Proposal Management
Shared Team Calendar
Invite Teaming Partners, Subcontractors, Proposal Writers to Shared Workspace
Permissions Based Workspaces
256-Bit SSL Encrpytion
PCI Compliant Payment Processing
Live Help Chat
24x7 Self-Service Support Center
Feedback and Feature Requests Community
Free One-on-One Support
HOT
EZGovOpps
Market Intelligence
Plans start at $1,548/year
Gold Plan+
HOT
Comparable Market
Intel Provider
Plans start at $5,000/year
Some
Some
Some
Some
Some
Some
Some
Some
Some
Some
Some
Some
HOT
Disclaimer: The comparison presented is based on publicly available competitor information. We are committed to providing current and relevant comparative information; however, service providers may change pricing and available features at any time. We accordingly make no representations with respect to the accuracy or validity of the information, but merely provide it for comparison purposes.