GSA OASIS SB on-ramp – 18 firms allowed to stay and others are now back in the running
7/30/21
While reviewing a protest from the company Wavelink, the court found that 18 firms that were awarded for the OASIS SB (small business) on-ramp were improperly given awards. The objection resulted from proposed direct labor rates lower than the suggested range however the awardees did not provide a rationale for them. The GSA went ahead and eliminated the solicitation provisions recognized by the court as problematic from Pools 1, 3 and 4, allowing the 18 firms to stay on the contract and compete for task orders.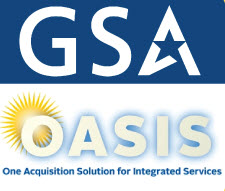 This change opens up the ability for Wavelink and other firms not selected for OASIS SB to submit revised proposals for review to the GSA. With a ceiling of $50 billion, OASIS is a very lucrative IDIQ contract, so we are quite certain to see these businesses chasing for those coveted positions. These new awards will be given on a rolling basis with no specific timeline, at least currently.
As a background for anyone not already familiar, OASIS is a massive ten-year multi-agency contract (MAC). As previously mentioned, it has several pools of IDIQ contracts and has subsets for companies that are small business (SB), 8(a) and unrestricted. It makes available both integrated professional services and products and allows commercial and noncommercial requirements for agencies including: Air Force, Army, Navy Air System Command, Department of Homeland Security, Office of the Secretary of Defense, Defense Information Systems Agency, the Defense Logistics Agency, and Centers for Medicare and Medicaid Services. Most of the spending comes tends to come from the Air Force and Army, and the most common NAICS are 541330 (Engineering Services) and 541712 (Scientific R&D).
OASIS will be coming to a close in 2024 and GSA is already in the works for its replacement BIC MAC, which stands for Best-in-Class Multi-Agency Contract.
For additional information on OASIS, please sign into your EZGovOpps account and visit this link, or sign up for a five-day trial.