An important aspect to working in the Federal contracting space, beyond hunting down specific opportunities, is understanding the broader trends that are shaping the Federal marketplace. Using Federal reporting data, EZGovOpps has compiled a list of the North American Industry Classifcation System (NAICS) codes which received the highest obligated award dollars in fiscal years 2015, 2016, and what has been awarded (so far) in 2017. With this list, we can build a picture not only of where the Federal government prioritizes spending, but of the diversity of opportunities in Federal contracting.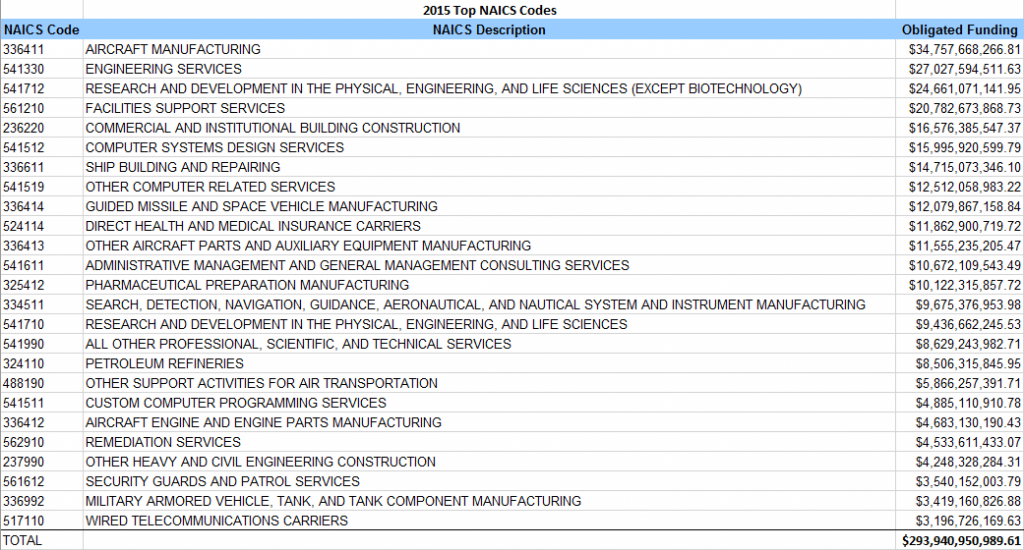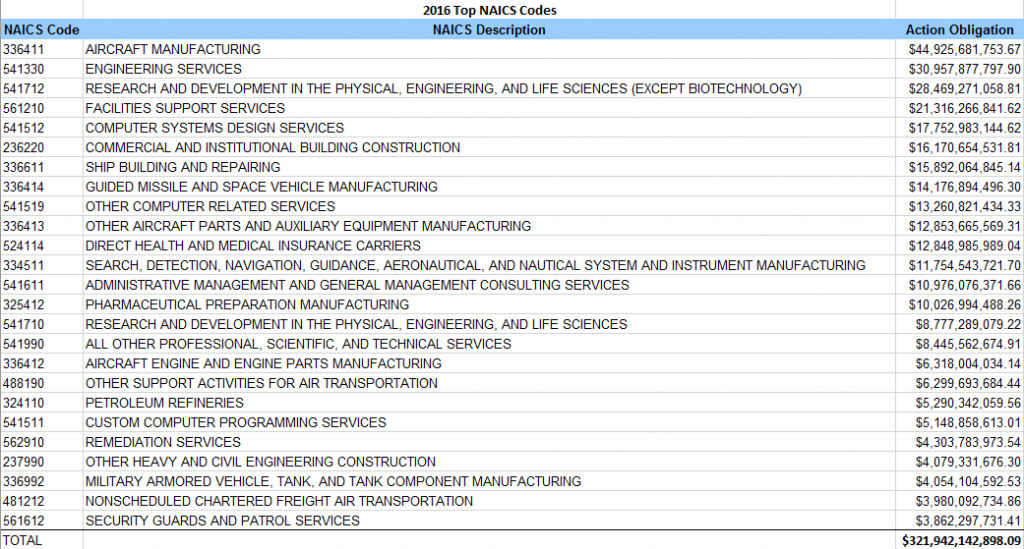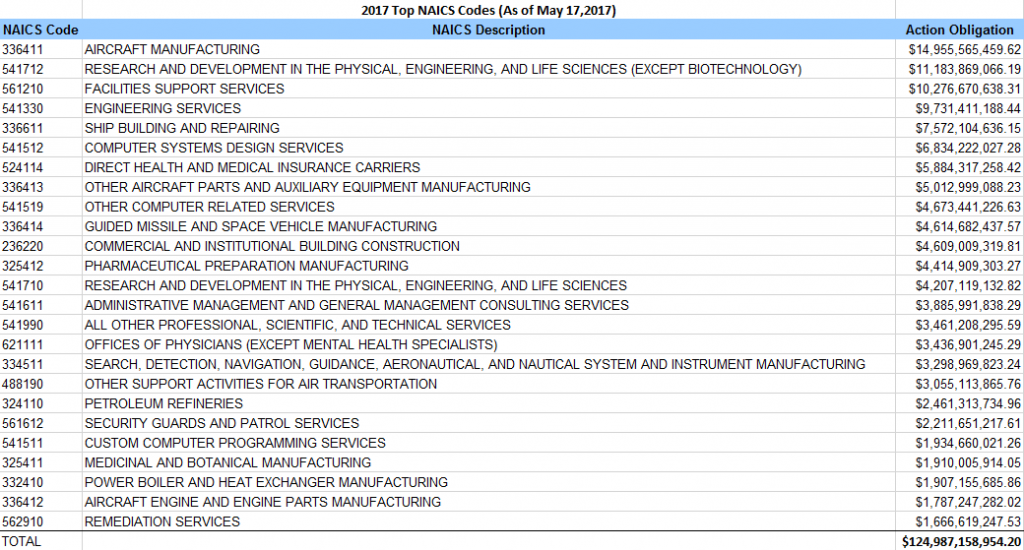 Click the images for a detailed look at the top NAICS codes. (data via FPDS) 
Of each of the years analyzed, the top 6 NAICS codes (out of the over 1100 NAICS codes used each year) already made up for over 30% of total obligated funding. More specifically, the top 6 NAICS codes in 2015 were awarded 31.7% of the almost $440 billion in obligated funding. 2016, which saw a large increase in overall funding to $473.6 billion, awarded 33.6% of funding to the top 6 NAICS codes. So far, in 2017, 32.7% of obligated dollars were awarded to the top 6 NAICS codes.
While the order of the top earners has changed slightly over the past 3 years, they have consistently been the same 6 NAICS codes:
336411 – AIRCRAFT MANUFACTURING
541330 – ENGINEERING SERVICES
541712 – RESEARCH AND DEVELOPMENT IN THE PHYSICAL, ENGINEERING, AND LIFE SCIENCES (EXCEPT BIOTECHNOLOGY)
561210 – FACILITIES SUPPORT SERVICES
541512 – COMPUTER SYSTEMS DESIGN SERVICES
236220 – COMMERCIAL AND INSTITUTIONAL BUILDING CONSTRUCTION
Both on the high and low ends of the top-25 award spectrum are defense-related NAICS codes such as 336414 – GUIDED MISSILE AND SPACE VEHICLE MANUFACTURING, 336611 – SHIP BUILDING AND REPAIRING, and 336992 – MILITARY ARMORED VEHICLE, TANK, AND TANK COMPONENT MANUFACTURING. Considering the Defense spending-boosts expected under President Trump in 2018, and confirmed for the rest of 2017, the defense-related NAICS codes are expected to stay high on the list.
The IT-related NAICS codes such as 541512- Computer Systems Design Services, are predicted by EZGovOpps to stay high on the list, if not rise higher, due to the ever-growing need for Federal IT services and modernization programs. With billions of dollars spent through GSA contracts, IT Schedule 70, Government-wide Acquisition Contracts, and planned modernization campaigns such as the MGT Act and Cybersecurity National Action Plan, IT and cybersecurity services are increasingly sought in the the Federal marketplace.
Are you seeking a deeper look at particular NAICS codes and the Agencies spending for those services? Sign up for a free trial with EZGovOpps. As the premiere market intelligence platform, EZGovOpps can provide the information needed to follow procurement trends, produce personalized opportunity forecasts, and provide custom analyst-updates for a complete understanding of the Federal contracting market today.
Don't forget to view our full GovCon News section for more intel.
Published May 18, 2017